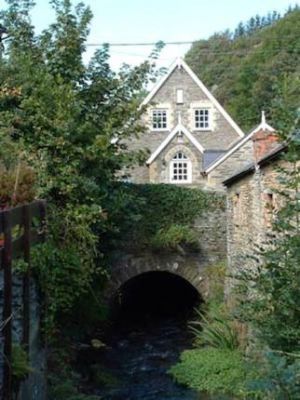 Bancyfelin Vestry was built in 1880 at a cost of £240! It was used for worship until 1994 when it was converted into a residential property by a local developer. Since then it has changed hands a further three times, featured in an episode of 'Lovejoy' and appeared as the 'mystery house' on Escape To The Country!.
We purchased Bancyfelin Vestry in September 2014. The following January saw the start a of a refurbishment project which aimed to  repair and update the building. We wanted to create 2 separate properties, and the Lower and Upper Vestry are now totally independent dwellings.
The work included completely removing the inner walls on the lower floor and lime rendering throughout the Lower Vestry. We knocked down internal walls to create an open living space and removed the original staircase which joined the two properties. We installed the wood burner and adjusted the original windows in order to install the modern kitchen. The final effect has been to create an intimate cottage with traditional features. The slate floor means that Lower Vestry is a dog friendly cottage. We stripped back the hedging and overgrown trees in the enclosed garden to open up the space and let in some light.
In the Upper Vestry, the ground floor was completely emptied and a new staircase, crafted by a local joiner was installed. A large bathroom and bedroom were reinstated and a large kitchen/diner/lounge area created to make the most of the space.  Underfloor heating has been installed and soundproofing between the two properties. Additional velux windows on the upper floor have helped to create a light and airy feel. Outside, the patio area was relaid and repairs undertaken to the summerhouse which now adds extra space for relaxation.
6 months of hard work by a team of local craftsmen has seen the transition of a once drab and tired property into  modern, sleek and contemporary units which have maintained the natural features of the building.
The photographs below show the progress that has been made  before and during the renovation work.